Earlier this year I re-watched Downton Abbey, a historical drama set between 1912 – 1926 that centers on the fictitious aristocratic Crawley family living through the events of the early Twentieth Century. As you do when you re-watch a series, I started to pick up on things that I had missed in my first viewing. Before, I was simply paying attention to the plotlines of each character, the complexities of their relationship dynamics, and the music that complements the storytelling. During this viewing, however, I took time to also examine the promotional posters that accompany each season. I was immediately struck by the visual language and storytelling of these images as they relate to the major themes of Downton Abbey: romance, modernism, succession, feminism, and the diminishing of the aristocracy.
The series begins with a succession crisis in the Crawley Family after the heir and his son die during the sinking of the RMS Titanic. While the Lord's eldest daughter believes that she is entitled to her father's title and fortune, she is being passed over for an unknown male family relative due to a legal document, signed by her grandfather, that prevents female descendants from inheriting lands and titles. As the series progresses, the audience joins the family and staff at Downton Abbey in experiencing a profound and rapidly changing world, where class (and even gender) dynamics slowly dissolve as the modern era arrives in Great Britain – all of which, I believe, is wonderfully expressed in the promotional posters. Despite their simplistic designs with most (not all) of the cast set before the façade of Highclere Castle – a Hampshire country house that is the filming location for the Downton – there are numerous changes that reflect the dynamics and experiences of those connected to Downton Abbey. Viewed individually, each poster paints an image of their respective seasons; viewed together, however, the six posters become a series in and of themselves, relaying an easily interpretive image of the entire series.
So, today I hope to be your guide in dissecting the six promotional posters of Downton Abbey. In doing so, I will pay close attention to the dress and positioning of characters, as well as the choice of color and background. I hope to assist you in interpreting these posters as works of narrative art (art that tells a story) to better understand and appreciate the series. Perhaps you will be influenced to watch or re-watch Downton Abbey and make observations of your own in the future. With that said, let us begin. Oh, and SPOILERS!
† – character(s) mentioned but not depicted on posters
---
(Cast left to right): Charles Carson, Elsie Hughes, Sarah O'Brien, Beryl Patmore, Daisy Robinson, Gwen Dawson, William Mason, John Bates, Anna Smith, Thomas Barrow, Matthew Crawley, Violet Crawley, Robert Crawley, Cora Crawley, Isobel Crawley, Mary Crawley, Edith Crawley, Sybil Crawley
It is dawn at Downton Abbey, a new day, a new beginning, and we should begin by taking note of the positioning of the debut cast. I want you to draw an imaginary solid line between Thomas and Matthew. This will be our class line that separates the "upstairs" from "downstairs", that is to say, the working class (left) from the middle- and upper-class characters (right). For each grouping there is a "king" who stands ahead of all the rest: on our left is Mr. Charles Carson, the Butler of Downton Abbey who is in charge of the entire staff, and on our right is Robert Crawley, the Earl of Grantham, who presides over the entire household, family and staff included. If you were to draw a line from where Mr. Carson is standing to our class line, the point of intersectional will usually coincide with a middle-class character, emphasizing the point that Mr. Carson can only be as socially powerful and influential as the least powerful member of the "upstairs" cast. Next, I want you to imagine drawing a segmented line between Violet and Robert. This second line will be splitting the "upstairs" cast in a few ways throughout the series. For the first two seasons, this line will separate those members of the Crawley family who are involved in the daily goings-on of Downton (right) and those who are not (left) – at least, not in any official capacity.
For anyone who has watched the series already, this may seem like an odd assessment, especially given how invasive the Dowager Countess, Violet Crawley can be with regards to family matters, that Matthew Crawley, Robert's third cousin-once-removed, is the heir presumptive to the Earldom of Grantham, and that his mother, Isobel Crawley, stands parallel to her son on the opposite side. Something to remember is that mothers in high society often broached marriage pacts between families, so Isobel's positioning, as the mother to the heir presumptive, makes perfect sense. Furthermore, we have to consider that a major plot point throughout the first season is the conflict of succession between Lady Mary Crawley, Robert's eldest child, and Matthew as his closest living male relative. This conflict is later exacerbated by the brief and tragic pregnancy of Cora Crawley, the Countess of Grantham and Robert's wife, (between Robert and Isobel) who had been in agreement with Isobel that their children should marry. Finally, Matthew begins the series as an upper-middle-class lawyer turned prospective heir to a British title and estate. Putting all these ideas together, it is clear that Matthew has a well-defined place in the Season One line-up.
With all that said, we can now appreciate the style and dress of the Crawley family. From Matthew to Sybil (far right), you can observe the unblemished elegance of the British upper-class through the Edwardian and earlier Victorian periods. An interesting tidbit is that Violet and her granddaughter, Sybil Crawley, youngest daughter of Lord and Lady Grantham, are both dressed in purple gowns, presumably representative of different ideals. Whereas Violet's purple dress would Purple is a color universally renown for symbolizing royalty and nobility, but it is also the color of women's suffrage. Whereas Violet is a monarchist and traditionalist, Sybil is a modernist and feminist. We will see more influence of color in dress and setting as we continue with our analysis.
As we now turn "downstairs", we see that behind Mr. Carson is Mrs. Elsie Hughes, the Head Housekeeper, who is the de facto second-in-command of the staff. She is followed by Mrs. Sarah O'Brien, Senior Lady's Maid, Mrs. Beryl Patmore, the Head Cook, and Daisy Robinson, the Kitchen Maid and lowest ranking staff member of the main cast. Starting from the very back and moving up we have Gwen Dawson, a Housemaid, William Mason, 2nd Footman, and jumping three spaces ahead, we have Thomas Barrow, 1st Footman. A running motif in the first four posters is that the character(s) who will depart by the season's end is usually the person at the farthest back of the line-up. In the case of Season One, Gwen Dawson leaves a life of service to become a receptionist during the season finale.
If you are wondering about the two members of staff that I skipped, these are Mr. John Bates and Anna Smith, his lordship's Valet and Head Housemaid, respectively. It is almost impossible not to mention the two together as they represent perhaps the romantic story arc of Downton Abbey, and that is saying a lot. Unlike many others, the romance and passion between Mr. Bates and Anna begin almost immediately and, despite what seems like endless periods of stress and misery to rival that of Edith Crawley, the middle Crawley sister, the series, in many ways, starts and ends with their love.
---
(Cast left to right): Charles Carson, Elsie Hughes, Ethel Parks, Beryl Patmore, Daisy Robinson, William Mason, Anna Smith, John Bates, Sarah O'Brien, Thomas Barrow, Matthew Crawley, Violet Crawley, Robert Crawley, Cora Crawley, Mary Crawley, Edith Crawley, Sybil Crawley, Isobel Crawley
An ominous orange sky hangs over Downton Abbey as World War I rages across Europe. Robert, Matthew, and Thomas are each dressed in military uniforms, although only two of them are sent to the war front. Robert's rank as Lord-Lieutenant is strictly an honorary title, which, with regards to his season arc, leaves him feeling inept and depressed due to a lack of usefulness, pushing him into a brief and undiscovered affair with the housemaid and war widow Jane Moorsum†. Matthew begins the war as a Lieutenant and eventually gets promoted to Captain. Despite being the heir apparent to Downton, however, his death would cause another succession crisis in the family. Near the end of the war, Matthew also receives a terrible wound that temporarily paralyzes him from the waist down and (presumably) prevents him from fathering any children of his own, which would end the male line of Crawley. Thus, his position in the line-up remains unchanged and his future as head of the Crawley Family a mystery.
While his position remains the same as well, the context around Thomas's position seems to have changed a little. Having left service to join the military, he returns to the big house as an Army Lance Sergeant – he started the war as a Corporal, the rank seen here on his uniform. With his experience as a combat medic, Thomas assists in governing the staff and maintenance of Downton Abbey when it is temporarily changed into a convalescent home, briefly putting him in the middle-class position – lower-middle-class, at least. Notice, however, that he does still stand behind Mr. Carson's positioning, insinuating his return to service by season's end.
The Crawley women (sans Violet), as indicated by their more simplistic dress ware, take up serious labor roles throughout this season. Cora takes the lead in managing the big house as it converts into a convalescent home for wounded soldiers. Cora's red outfit could foreshadow her falling ill to the Spanish Influenza that attacks Downton Abbey during the season finale, although she survives. Mary and Edith assist their mother in running the household and keeping the spirits of the soldiers high. Following Matthew's injury, Mary becomes his private nurse; the two had fallen deeply in love in the previous season but Cora's sudden pregnancy strained their relationship and Matthew rescinded his initial proposal. Perhaps, this explains why they are parallel to one another in the line-up. Mary's dotting on Matthew puts additional strain on her recent engagement to newspaper proprietor Sir Richard Carlisle†, as well as pressure and competition on Matthew's new fiancé, Ms. Lavinia Swire†, the daughter of a solicitor (much like Matthew himself). At the end of the season, Lavinia dies during the Spanish Influenza pandemic, and Mary breaks off her engagement to Richard Carlisle, allowing Matthew to propose once again.
When not tending to soldiers' needs, Edith spends time driving a tracker for a local farm, which leads her into a brief and unseemly relationship with a tenant of the Downton estate. Sybil, the most rebellious and worldly of the Crawley sisters, joins a medical training program to work as a hospital assistant under Isobel, a trained nurse & widow of a licensed physician. Sybil's experiences eventually lead her to desire a life outside of the aristocracy and begin a romantic relationship with someone "below her station" which utterly shocks the family. Isobel, meanwhile, who had previously stood beside Cora, has now been pushed to the fringes as her nagging and assertiveness on how to run a convalescent home are deemed disrespectful and harmful to the family.
When looking at the staff of Downton Abbey, there are some notable changes. The departure of Gwen allows for the hiring of Ethel Parks as another new housemaid, whose positioning indicates her closeness to Mrs. Hughes, who, despite being exhausted by the young maid's lack of ethics and self-restraint, helps her find a better life. William, who had been kept from the war by the Dowager Countess, eventually joins the military as a Private under Matthew's command – he does not head off to war until the third episode, thus explaining why he is not in military dress here. Unfortunately, William dies due to wounds he sustains trying to protect Matthew from an explosion (the same blast that causes Matthew's spinal injury), but not before he is returned to Downton and marries his sweetheart, the reluctant-bride Daisy.
---
(Cast left to right): Charles Carson, Elsie Hughes, Thomas Barrow, Beryl Patmore, Daisy Mason, Sarah O'Brien, Anna Bates, John Bates, Tom Branson, Sybil Branson, Martha Levinson, Violet Crawley, Robert Crawley, Cora Crawley, Matthew Crawley, Mary Crawley, Edith Crawley, Isobel Crawley
Following the Great War and Spanish Flu outbreak, Downton Abbey tries to return to a sense of normalcy, as indicated by the graceful and elegant dress of the Crawley family. Matthew, following his engagement and subsequent marriage to Mary, finally joins the two Crawley bloodlines and officially becomes Robert's heir. He also becomes a co-owner of Downton by saving the estate from bankruptcy. With Matthew's full conversion into the family, we should consider how this affects the "upstairs" of Downton. I suggest that those on the far right of the line-up henceforth represent the next generation of lords and ladies, as well as the legacy of the Crawley Family. We will see how this continues to develop in the latter half of the series.
Mary and Edith stand out in their brightly colored dresses indicating new developments in their lives. Mary stands to succeed her mother as the future Countess of Grantham and will later become pregnant with hers and Matthew's child, the future heir to Downton Abbey and the earldom of Grantham. Edith, on the other hand, starts the season by being spurred at the altar by the older gentleman Sir Anthony Strallan†. Afterward, she is encouraged by her brothers-in-law to become a London newspaper columnist, where she begins a relationship with the newspaper editor and publisher, Mr. Michael Gregson†.
Standing beside the Dowager Countess is Cora's mother, Mrs. Martha Levison. She is Violet's polar opposite in almost every way and the two are constantly clashing with one another. As a rich American widow, Martha is not a proper "lady", nor does she exhibit any of the noble qualities of her daughter or granddaughters. Nevertheless, she holds a respectful, though perhaps reluctantly given, position in the Crawley family.
Rounding out the Crawley family are Sybil and her husband, Tom Branson. The former chauffeur of Downton Abbey, Tom is a series regular, first appearing in the fourth episode of season one. He is an Irish-socialist who begins the series with deep contempt for aristocratic rule and England's historically abusive treatment of Ireland. His honesty and interest in politics blend well with Sybil's less traditional and more compassionate nature, and the two fall in love amidst World War I. At the end of season two, despite Robert's extreme prejudice and outrage, he gives them their blessing to marry. When season three begins, the couple had already been living in Ireland when Sybil writes a letter to inform the family that she is pregnant. They return to Downton for Mary and Matthew's wedding, although the social awkwardness within this new Crawley family proves to be palpable.
An interesting point to consider in this poster is how distant Mr. Carson and Robert Crawley are from one another. As a reminder, Mr. Carson, as the Butler of Downton Abbey, can only be as socially powerful and influential as the least powerful member of the family. In this case, that person is Sybil Branson – she may have married a working-class Irishman, but she is still an "Honorable Lady" of the household. To me, this suggests that season three has the largest power gap between the family and the staff at Downton, and the person who straddles the power balance is Tom. In every sense of the phrase, Tom has married "above his station", a situation which is further complicated by his socio-political views. His sudden rise to the middle-class puts him at odds with members of upstairs and downstairs, despite having support from individuals of both groups, namely Mrs. Hughes, Anna, Sibyl, Matthew, and Mary. This confusion of identity while at Downton makes Tom perhaps the "truest" middle-class character in the entire series.
Now, looking at the staff of Downton Abbey we can once again see some changes. Anna, now Mrs. Bates following her marriage to Mr. Bates in season two, has been promoted to Lady's Maid – married women are tended to by Lady's Maids, so with Mary's marriage comes Anna's promotion. Mr. Bates spends the majority of the season falsely imprisoned for the death of his ex-wife, Vera Bates†, who had committed suicide in hopes of framing him and ruining his life. Ethel Parks† is no longer a member of the Downton staff, and so does not appear in the line-up, but she remains a regular character throughout the season. The seeds of Mrs. O'Brian's departure are spread throughout the third season, which explains her new position in the far-back. Speaking of the far-back, we see that Daisy has also received a promotion to Assistant Cook, as indicated by her cap and apron. Lastly, and this is difficult to catch at a glance, we can see that Thomas is wearing a brace around his left palm to cover the gunshot wound he took during the war.
---
(Cast left to right): Charles Carson, Elsie Hughes, Thomas Barrow, James "Jimmy" Kent, Ivy Stuart, Alfred Nugent, Daisy Mason, Beryl Patmore, Anna Bates, John Bates, Isobel Crawley, Violet Crawley, Cora Crawley, Robert Crawley, Mary Crawley, Edith Crawley, Tom Branson, Rose MacClare
It is a new day at Downton Abbey as the second act of the series begins. The small hints of blankness at the top of the big house indicate a "clean slate" on the series, but nothing exciting about this fresh new start. The dark color palette from the previous season persists as the family struggles to cope with the deaths of both Sybil and Matthew. Isobel and Mary are notably dressed in mourning, while Mary and Tom share somber facial expressions as they struggle to cope as widowed, single parents.
After months of mourning and depression, Mary soon learns that she is Matthew's heir, according to his will, and thus becomes co-owner of the Downton Estate alongside her father. Alongside Tom, now the agent of the Downton Estate, she begins training in landownership and maintenance. Then, there is Edith, whose red-orange dress over a black top might also foreshadow trouble in her own romantic relationship with Mr. Gregson, who mysteriously disappears while in Germany, leaving her concerned for his well-being and, more importantly, pregnant. Finally, we have Rose MacClare, Robert's first cousin-once-removed, who is young, beautiful, and spontaneous. The daughter of the Marquis and Marchioness of Flintshire†, she brings excitement and joy back into the big house.
While the Lady of the House, Cora is now the "old blood" and plays a less active role in the running of the estate. The white gown she wears seems to recall the dress she wore in the season one poster, back when she was still raising three young daughters. Despite Sybil's death and having two grown daughters, the arrival of Rose allows Cora to become a sort of surrogate mother to her. Furthermore, Cora is a dotting grandparent, like her husband, and takes particular care to ensure that her grandchildren are raised properly and equally. This might also explain why Cora's position has shifted to be next to Violet – both are now grandparents without any need to nurture their children.
Isobel's shift in position is the last noticeable change and seems to represent a loss of one relationship and a strengthening of another. After Matthew's death, Isobel has no one she could relate to other than the Dowager Countess. In previous seasons, the two women were constantly at odds, perhaps owing to their drastically different lifestyles. Nevertheless, Isobel and Violet become great and fiercely loyal friends to one another this season and, although they still bicker from time to time, they share a fondness for each other that is akin to sisterhood.
Three members of the Downton staff make their poster debuts, although they were introduced in the third season: Alfred Nugent and James "Jimmy" Kent, footmen, and Ivy Stuart, the new kitchen maid. Alfred is Mrs. O'Brien's nephew and, coincidentally, stands in the same position she did in the previous poster. He and Ivy will both have left Downton by the end of the season, but, for now, I want you to focus on their positions in the line-up. See how Ivy stands between Alfred and Jimmy as if to be the point in a triangle? Well, that is because it is a love triangle. Despite their friendship, both young men are rivals for Ivy's affection. There is another love triangle, however, between Ivy, Alfred, and Daisy – see how he stands between them? While Ivy fancies Jimmy, she inadvertently continues to lead Alfred on, which causes him to ignore Daisy's feelings. This midsummer night's dream causes a bit of distress for the staff of Downton throughout the season.
---
(Cast left to right): Charles Carson, Elsie Hughes, Thomas Barrow, James "Jimmy" Kent, Phyllis Baxter, Joseph Molesley, Daisy Mason, Beryl Patmore, Anna Bates, John Bates, Isobel Crawley, Violet Crawley, Cora Crawley, Robert Crawley, Mary Crawley, Tom Branson, Edith Crawley, Rose MacClare, Isis, George Crawley, Sybil "Sybbie" Branson
A bright and beautiful 1924 afternoon hangs over Downton Abbey. Before we go any further, I want to take note of something that I avoided mentioning in the previous poster analysis. Earlier we spoke about how Mr. Carson could only have as much authority as the least authoritative member of the Crawley Family. We already had our class line, and we would draw a line from Carson straight across to confirm his status in Downton Abbey. Take a moment to scroll back up and see how much closer Mr. Carson is to the camera in the previous poster. Have you done that? Now, look at how closely in front he stands in this poster. From his posture, it is difficult to tell whether Mr. Carson stands on equal footing with Robert or somewhere between him and Cora. Nevertheless, to me, it is symbolic of the rising working class and falling British aristocracy throughout the 20th century. This says a lot more when you consider that this poster has the most cast members of any season. Furthermore, the point has a smaller but more immediate presence when Mr. Carson is chosen by the Downton village to supervise a war memorial over Robert – this position is traditionally given to the lord of the county.
When looking at the family, the first thing I am sure you will notice is that everyone is dressed in coats and jackets, which I suggest indicates how much more of their stories take place outside of the big house. Robert, Mary, and Tom work together to ensure to successful growth and health of the Downton Estate as other lords and ladies begin selling up their properties to survive the changing times. Mary also spends a good deal of time in London being courted by a pair of suitors – Anthony Foyle†, Viscount Gillingham, and Mr. Charles Blake†, the heir to a baronetcy. Edith spends her days visiting a local tenant farmer who is helping to hide her illegitimate daughter, and Rose assists Russian refugees fleeing from revolution when she meets and later marries the handsome Atticus Aldridge†, the son of a recently made Lord.
Cora finds an opportunity to flex her intellectual muscles and begins visiting galleries with the charming art historian Mr. Simon Bricker†, who lusts after the Countess of Grantham, much to Robert's annoyance and jealousy. Violet and Isobel find themselves revisited by romance as the Russian refugee Prince Kuragin† attempts to elope with the Dowager Countess and Isobel is proposed to by Richard "Dickie" Grey†, Lord Merton and Mary's godfather. Where Mr. Bricker and the Russian Prince fail, Lord Merton succeeds until his disgraceful sons offend Isobel and the whole Crawley family, prompting her to withdraw from their engagement.
Now, let us talk about the new characters featured with the family. George Crawley is Mary and Matthew's son, the grandson of Robert, Cora, and Isobel, and, thus, the heir apparent to the earldom of Grantham and heir to the Downton Estate. His overall importance to the security and legacy of the Crawley family is such that he stands both beside Lord Grantham and in front of his mother as the future Lord Grantham. Behind him stands his cousin, little Sybil "Sybbie" Branson, the daughter of Sybil and Tom. As the first grandchild of Robert and Cora, she stands beside her aunt Mary and in front of her father. While she is not entitled to any inheritance, as the child of the Earl of Grantham's third daughter, she is still a future Lady of the Crawley family. Finally, Isis is the family dog, and she makes her first and only debut here as she passes away midway through the season.
Once again, there are a few changes in the Downton staff. Despite having been a series regular, Mr. Joseph Molesley makes his poster debut. He was the Butler of Crawley House (where Isobel lives) and later Matthew's Valet. He fell into unemployment after Matthew's death, but eventually finds his way back to the Crawley family and back into service. He stands in-between Mrs. Phyllis Baxter, Cora's new Senior Lady's Maid, and Daisy, acting as an influential figure in both of their storylines. As Molesley tries to help Mrs. Baxter reconcile with her criminal past, he also encourages Daisy to finish her education in hopes that both women might discover better and brighter futures.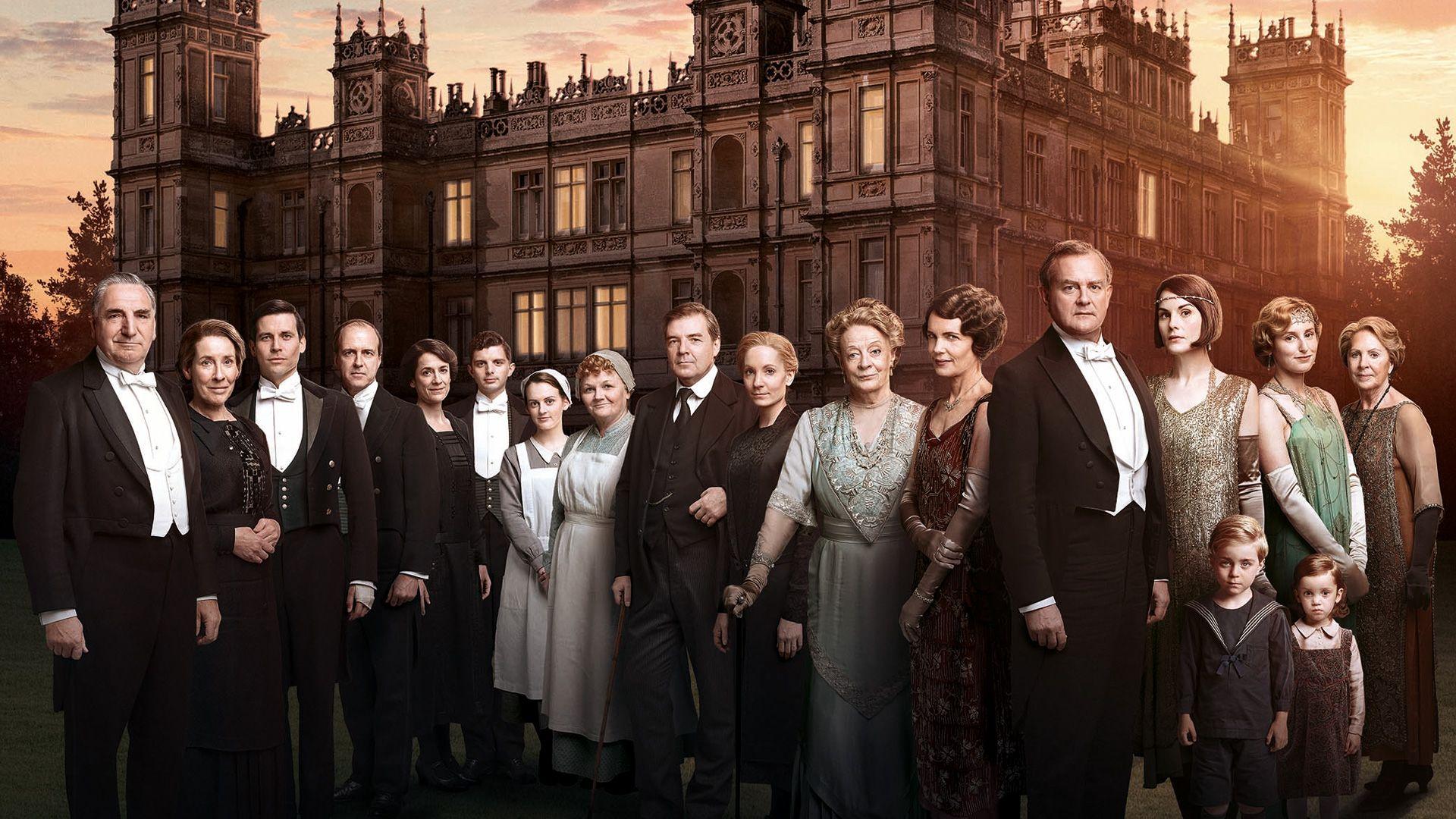 (Cast left to right): Charles Carson, Elsie Hughes, Thomas Barrow, Joseph Molesley, Phyllis Baxter, Andrew "Andy" Parker, Daisy Mason, Beryl Patmore, John Bates, Anna Bates, Violet Crawley, Cora Crawley, Robert Crawley, Mary Crawley, Edith Crawley, Isobel Crawley, George Crawley, Marigold
Sunset has arrived at Downton Abbey as the series nears its end. The Roaring Twenties are in full swing, and the family is not shy about expressing themselves through more modern dress. Notice how different the women of the Crawley family are dressed from when the series began. The Crawley family of 1912 was still living in the prosperity of the Edwardian era (1901 – 1910/1914) and still glorifying the successes of the Victorian era (1837 – 1901). In the first season, the women wore long dresses and skirts, plain and solid colors, big decorative hats, tailored coats – all rather concealing clothing. And while this is not depicted in any poster, their clothing was never reminiscent of men's ware (i.e., ties, vests, women's suits, etc.) Here, we can see that the Crawley women have embraced the flashy, stylish, and overall looser dresses of the 1920s.
As we look at the family, the first things we will have noticed are the absences of Tom and little Sybbie†, who start the season living in America (do not worry, they return soon enough!). In their places are Edith and Marigold, her daughter by the late Michael Gregson, who was made a ward of the family, though her parentage is an open secret. She has a particularly curious position in the line-up. While she does stand in front of her mother, that has relatively no importance given she is illegitimate and (officially) unrecognized by the family. What does matter, however, is that Marigold is standing between Edith and her aunt Mary. Given that Mary is the only person being actively left out of the secret concerning Marigold, she becomes a huge point of conflict between the sisters. When Edith is being courted by Herbert "Bertie" Pelham†, an estate agent who becomes the new Marquis of Hexham, Mary, out of envy and self-destructiveness concerning her own happiness with the gentleman Henry Talbot†, uses Marigold's parentage to sabotage her sister's chance at happiness. Eventually, Mary reconciles with herself and marries Henry, becoming the Honorable Lady Mary Talbot. She had also previously been made the agent of the Downton after Tom's departure and becomes the de facto sole owner of the estate when Robert's worsening health prevents him from managing Downton any further.
Mary also reconciles with Edith, reuniting her and Bertie, who chooses to accept Marigold as his stepdaughter upon their marriage. Henceforth, Edith Pelham becomes the Marchioness of Hexham, outranking everyone in her family. Meanwhile, Isobel makes a sudden return to the aristocratic side of the line-up as the season also ends with her reinstated betrothal to Dickie Grey. Their engagement (and marriage by the time of the film) confirms Isobel becoming a great Lady of the countryside – she becomes Lady Isobel Grey, Baroness Merton.
On the opposite side, we see that Cora returns to a dark red dress, similar to the ones she wore in seasons two and three. I am going to make a few assumptions here, so I hope you can follow my thinking. If we extrapolate what happened in those two seasons – first Cora led the big house as a convalescent home, a role she reminisces of often, before contracting the Spanish Flu, and then, she has to watch her youngest daughter die from eclampsia – we might consider how closely Cora's story arc is tied to illness and health care. It should come as no surprise then that she becomes the new Chairman of the Downton Cottage Hospital, replacing the Dowager Countess. While this spark initial conflict between the two, Violet comes to realize that Cora is a wonderful chairman and recognizes her as the new matriarch of the Crawley family.
For the last time, let us talk about the changes with the Downton staff. Andrew "Andy" Parker, who debuted in the fifth season's Christmas special, is the newest footman at the big house (hence his position in the far back). Throughout the season he and Daisy fumble into a romantic relationship – she is notoriously bad at reading men and Andy is often emotionally insensitive to others. Curiously, Mr. Molesley moves up one position, but not out of any particular staff importance, I imagine. I suggest that it is due to him finding a life outside of service. After encouraging Daisy to finish her education, Mrs. Baxter encourages him to accept a teaching position in the Downton School offered to him by the headmaster. In the end, he does accept and offers to work as a footman part-time, when large events require a larger staff.
---
I hope that I was able to help you get a glimpse at the complexity and intrigue of Downton Abbey. For long-time fans of the series, you will have noticed that there were several story arcs and features that I avoided mentioning. I never tried to make heads or tails of Anna and Mr. Bates' flipping positions, which may have reflected whose character arc held more sway per season. I never mentioned Thomas's attitude or sexuality and how that tended to influence his behavior with other characters. The witticisms of the Dowager Countess go criminally unrecognized, the relationship of Mr. Carson and Mrs. Hughes, the hilarious antics of Mr. Molesley, and much more are left out. Why? The reason is simply that I wanted to focus this analysis on observing the promotional posters as narrative art.
I have grown to love the technique of visual storytelling and the narrative art genre over the past few years, and it is incredible when you realize how deep and expansive they can be. I find that the experience of viewing and deciphering narrative art can be just as deep and analytical whether you go in with or without prior knowledge on the subject. Granted, having context can help you scratch the surface more easily, but it can also skew your understanding. What you should be aiming for is not to find proof of what you know but evidence of that proof; and if you have no prior knowledge, to make deductions and find evidence in the artwork to support those conclusions.
So, here is something I would like you to try out in the future. If you find an image or painting or whatever that you believe tells a story, try to decode it for yourself. Perhaps you will close your eyes and try to imagine yourself in the image. Maybe you will break it up into sections and tackle each one at a time. You might just decide that viewing it as one piece is the best option.
In whichever way you decide to conduct your analysis, the most important thing I can leave you with is this: even if you are not aware of the subject matter, you have enough knowledge and experience of the world that you can make general inferences and basic deductions that will help reveal to you the story presented in that work of art. Look at the colors, the expressions, the setting, the lighting, even at what is missing and would expect to see. All those aspects are built into the visual storytelling of an artwork and will guide you in your analysis.
---
---
Categories: Writings & Errata